3D printing is the most transformative technology for businesses offering on-demand manufacturing services.
How 3D printers improve on-demand manufacturing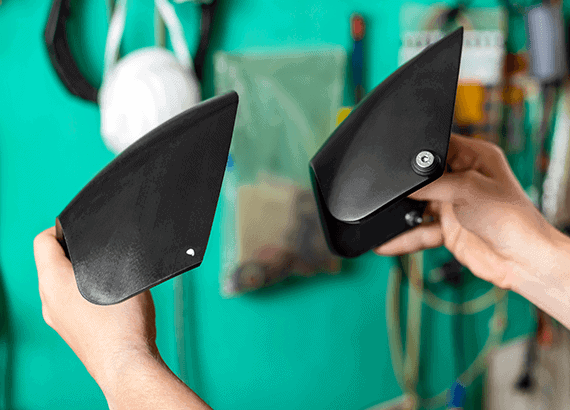 Prototype motorcycle components 3D printed on spec for a customer.
Businesses offering on-demand manufacturing services face three major challenges
Product design and order quantity can vary greatly
Traditional manufacturing technologies have high MOQ threshold of profitability
Efficiency of traditional manufacturing tools is heavily affected by products' design
No MOQ
3D printers fabricate models at a steady price regardless of the order quantity, so there is no need to force a high MOQ upon customers.
Simple toolset
Almost all shapes can be fabricated on 3D printers, so there is no need for having specialized tools for different designs.
Short lead times
Ordered products get to customers faster because 3D printers can start working on the assignment immediately with no time wasted on tooling.
Less human labor
Fabrication on 3D printers is for the most part done automatically with no need for human supervision, so it requires minimal workforce.